Mianyang Local Maritime Bureau assisted to carry out 2020 Xianhai water traffic emergency drill
18/May/2020
In order to improve the decision-making, command and emergency response capabilities of water sudden safety accidents, minimize casualties and economic losses, protect the life and property safety of the country and the people, and accumulate practical experience in preventing major disasters and looting major risks. On April 27, 2020 water traffic emergency drill was launched in the Xianhai Lake reservoir area, which was hosted by the Xianhai Management Committee. At 8 a.m., the local maritime bureau of Mianyang City took the form of no scripts, no plans, no greetings, and an emergency pull. They responded immediately, dispatched one law enforcement vehicle, two emergency assault boats, and five emergency personnel to rush to the "accident" site. They finished the subjects such as ship collision, ship fire and water oil spill.
The subjects of this drill was including drowning personnel rescue, ship fire and ship oil spill. Under the orderly command of the command center, the maritime, public security, firefighting, 120 emergency center and other emergency functional departments coordinated and carried out rescues in an orderly manner. The drowning people and the injured were rescued and transferred to the hospital. The tourists in distress were safely transferred and the ship fire was extinguished. The leaked pollutants were successfully contained and cleared by

oil booms

and

oil absorbent pads

, and the ship in distress was towed to safe water for berthing.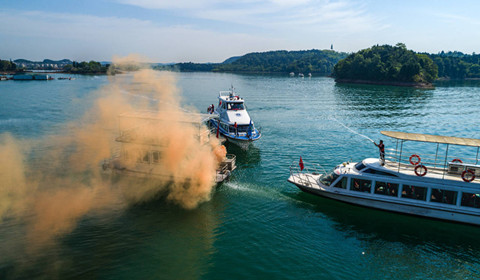 << Back