Multiple units in Zhoushan jointly held a ship's operational oil spill emergency drill
23/Jul/2020
On June 30, the 2020 ship operational oil spill emergency drill was held in the southern waters of Zhujiajian International Cruise Terminal.

This drill was simulated when the oil supply vessel "Oil Supply 1" was refueling the cargo ship "International Ship" at the Mazhi anchorage. Due to the influence of the tidal current, the pipeline was broken, it was caused 1 ton of fuel oil to leak into the sea. After the accident, "Oil Supply 1"ship immediately took emergency pump stop measures, quickly carried out plugging and oil spill recovery and cleaning work(by using

oil absorbent pads

and

oil booms

) in accordance with the ship's oil spill emergency plan, and immediately reported the relevant situation to the Zhoushan City Oil Spill Emergency Center. After receiving the report, the Zhoushan Offshore Oil Spill Emergency Center launched the relevant plan and organized emergency rescue forces to carry out containment, recovery and removal of the offshore oil spill.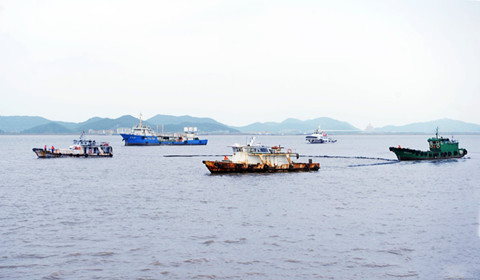 << Back