Ukrainian Black Sea Port Waterway Dredging Project Was Completed
29/Jan/2019

Recently, Black Sea Port was completed the first inbound waterway dredging project in the past 20 years.

In the past 20 years, the number of large vessels exceeding 14 meters entering the Black Sea Port has increased dramatically. Therefore, the inbound waterway and port pool dredging project determines the future development of the port. At the end of the project, state-owned and private loading and unloading companies operating in the port can accept Panamanian and Super Panamanian large-tonnage vessels with a draft of 14.5 meters.

After the completion of dredging project, the length of the inbound waterway will reach 1,600 meters, the width will be 160 meters, and the depth will be 16 meters.

The Harbour Authority said that the dredging team of the China Harbour Project is operating in the harbor. The first phase of the dredging work in the work area was completed and the second phase has begun. After the completion of the three phases, the depth of the central area of the harbor will reach 15 meters.

The large port dredging project at the Black Sea Port of the Ukrainian Seaport Bureau was begun in August 2018. The project consists of two parts: the inbound waterway dredging project and the port pool dredging project.

The Harbour Authority's investment in the project was 404.1 million hryvnia (excluding VAT). The project was contracted by the China Harbour Engineering Company, which was won by the public procurement system of the PROZORRO public procurement system.

The inbound waterway of the Black Sea Port (Ilychovsk Port) was built in 1957. The original width of the waterway is 60 meters, the depth is 8.25 meters, and the length is 780 meters. The scale of the waterway was gradually expanded to a depth of 14.5 meters, a width of 150 meters and a length of 1,400 meters. With the dredging project, protective base and shore defense facilities were also built. It was used

silt curtains

and excavator for dredging project.

The total amount of the Black Sea Port dredging project is nearly dredged 2 million square meters. The inbound waterway project volume is nearly 500,000 square meters, and the port pool is nearly 1.5 million square meters.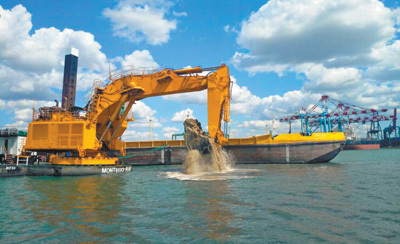 << Back