Fuzhou Haiying Terminal conducted ship anti-pollution emergency drill and training
30/Jan/2019
On January 11, 2019, Fuzhou Haiying Terminal organized and carried out ship anti-pollution emergency drill and training. The content of this drill was formulated in accordance with the relevant contents of the company's "Emergency Plan for Prevention and Control of Marine Pollution in Marine Environment". It was simulated when the ship is berthed, it collided with the terminal, the fuel tank on the ship was damaged, which was causing the fuel oi was leaked. After received the on-site report, they immediately started the emergency plan, set up an emergency team and prepared emergency materials to carry out the accident disposal work. The emergency materials were included

oil booms

and

oil absorbent pads

.Under the guidance of the experts of the coordinator Fuzhou Harbor Safety Technology Consulting Co., Ltd., the drill was ensured smoothly.

After this emergency drill, the staff in each position know more about the job responsibilities, enhance the cooperation ability of each department, test the reliability of emergency facilities, equipment and materials, and better protect the sea environment and the ocean resources.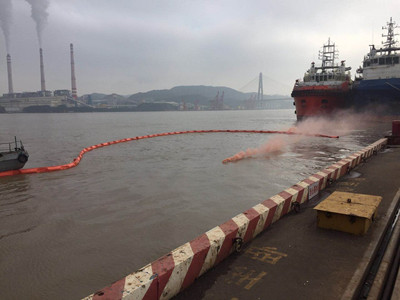 << Back