The environmental protection special activities ended successfully
10/Apr/2019
Recently, the waterway maintenance company's ship safety and environmental protection special activities ended successfully.

It is reported that during the one-month special event, all departments of the company attached great importance to it, and all projects and fleets were seriously organized. All the cadres and workers actively participated and the activities achieved remarkable results. First, 9 seminars were held, and the ship liability list and recent safety documents and environmental protection regulations were organized and studied. The number of participants was 220. The second was to prepare 220 safety and environmental protection knowledge questionnaires, which were distributed to various projects and fleet ships for testing. The pass rate reached 100%; the third is to organize 4 special safety inspections, focusing on environmental protection equipment, equipment, emergency alarm devices, ship domestic garbage, oil sewage, domestic sewage, according to regulations for recycling or harmless disposal check. There are 18 hidden dangers, and all the rectifications have been implemented. All ships have replaced the new version of the ship's garbage bulletin board; the fourth is to carry out 4 anti-pollution and oil spill emergency drills, there were more than 120 people participated in the drill and 17 ships such as Changying 5 ship, Changying 6 ship, Zhuayang10 ship and Zhuayang17 ship and so on. It was used a large amount of

oil booms

and

oil absorbent pads

for oil spill control and clean-up.

Through the development of special activities for safety and environmental protection, the first is to enhance employees' awareness of safety and environmental protection and post responsibility; the second is to improve the business skills and emergency response capabilities of new and transferred workers; and the third is to standardize ship safety records and management accounts recording.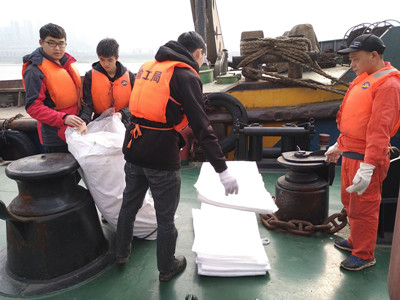 << Back