2020 Xiamen-Zhangzhou passenger transport route maritime oil spill emergency drill
22/Jun/2020
On June 10, in order to improve the comprehensive emergency response capabilities of marine passenger ships, the Lujiang Maritime Department of Xiamen Maritime Bureau organized passenger transport companies under the jurisdiction, private voluntary marine rescue organizations, and marine emergency decontamination units to carry out maritime search and rescue and oil spill emergency drill.

This drill was simulated that when the ship (with 20 passengers) was sailing to Zhangzhou to the waters near No. 701, the main engine suddenly broke down and the ship was out of control. During the disposal process, the ship touched the bird droppings reef under the influence of the wind current, and the hull was damaged into the water and tilted. Afterwards, it was found that the dirty oil tank was damaged and the oil pollution was leaked. The passengers on board were out of control and the scene was chaotic. Two passengers fell into the water. The captain immediately called for rescue, and at the same time they carried out emergency handling of the ship's oil leakage. After received the police, the search and rescue center instructed the Lujiang Maritime Department to carry out emergency disposal work, coordinate the transfer of passengers from nearby sailing ships, and coordinated the decontamination units to carry out emergency decontamination operations such as

oil booms

deploying and

oil absorbent pads

using, and dispatched drones to assist in the search and rescue on the spot.

This drill is an emergency drill with no scripts and no rehearsals carried out under the normalization of the epidemic situation. The drill projects include ship self-rescue in distress, human life search and rescue at sea, large-scale passenger transfer, and oil spill cleaning operations.Finally ,the drill was successfully finished.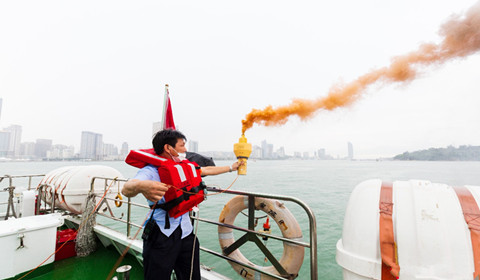 << Back