"Changshi 11"ship launched fire rescue and oil spill drill
23/Jun/2020
Recently, "Changshi 11" ship carried out firefighting, lifesaving and oil spill drill under construction in the Haimen project. After hearing the fire alarm, the crew of "Changshi 11" acted quickly according to the emergency response deployment plan. Everyone put down the repair work in their hands, quickly put on the fire fighting equipment, and carried the relevant fire fighting equipment for corresponding to their own emergency deployment positions, and all rushed to their posts and the scene of the fire within 2 minutes. As the bridge issued a fire extinguishing order, the water hose immediately released water, and the fire was quickly extinguished.

After the fire drill, the crew also conducted life-saving drill and oil spill drill by using

oil booms

and

oil absorbent pads

. Through the three types of exercises, the safety awareness and emergency response capabilities of all ship employees have been further enhanced.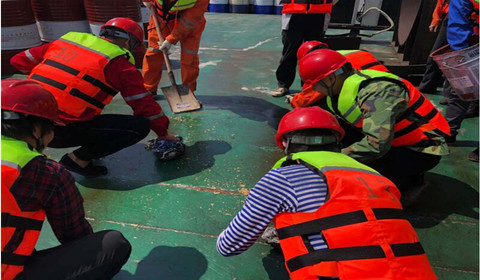 << Back