Municipal Ecological Environment Bureau held a review meeting for environmental emergencies
13/Aug/2021
On August 5, the Municipal Ecology and Environment Bureau organized a review meeting for the emergency environmental incident "July 12 Kaiping Tangkou electrical insulated oil tank leakage" in Kaiping City, reviewed and analyzed the entire process of emergency response to the environmental emergency. The leaders of the Municipal Ecological Environment Bureau and the 7 sub-bureaus of the city (district) in charge of environmental emergency and the heads of the unit offices attended the meeting.

At the meeting, the Kaiping Sub-bureau conducted a systematic review and review of the entire process of handling the emergency environmental incident of "July 12 Kaiping Tangkou electrical insulated oil tank leakage", and the Municipal Ecological Environment Bureau made comments. The meeting thought that the Kaiping sub-bureau immediately dispatched and carried materials and equipment such as

oil absorbent pads

,

oil booms

, flood control sandbags and shovels after receiving the report, and arrived at the scene in less than 40 minutes, and it was able to rush to the scene as soon as possible; The leaked electrical insulating oil had entered the highway ditches and was flowing to the downstream irrigation canals. The emergency personnel on the spot were not waiting and immediately filling the sandbags with the flood sandbags,they brought to block the highway ditches to prevent the leakage of pollutants from further spreading, they effectively prevented "small things from turning into big incidents." Kaiping City attached great importance to it, and the deputy mayor in charge of ecological and environmental protection also rushed to the scene to direct the on-site response and disposal work, quickly mobilized relevant emergency forces, safely transferred the tank trucks that caused the accident, cut off the source of pollution, and had the suction and transfer of leaked pollutants, they completed all disposal work well in a short time. The response to the incident fully demonstrated the leadership's good experience and practices, such as leader's attention, rapid response, timely response measures, and adequate preparations of emergency materials. However, there are still some shortcomings, such as insufficient preliminary on-site investigations,etc.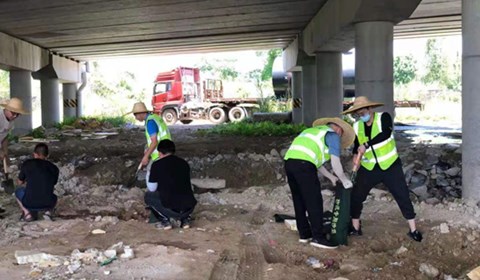 << Back