A 50,000-ton cargo ship of Japanese shipping giant ran aground and broke
14/Aug/2021
A 50,000-ton cargo ship owned by Japan Post ran aground and broke off the coast of Japan yesterday, caused a fuel spill. Fortunately, all 21 crew members on board, including 8 Chinese crew members, were rescued with no casualties.

At around 7:35 am , local time on August 11, the woodchip carrier "Crimson Polaris" anchored outside the breakwater of Hachinohe Port in Aomori Prefecture,it was swept away by strong winds and struck a reef and ran aground. After that, the ship relied on its own power to escape shallow, but it was unable to sail due to bad weather conditions, rescue was required. At 4:15 am on August 12, the ship broke in two sections, part of the wood chip cargo on board was lost, and fuel oil was leaked.

Japan Post said that the fractured hull was about 4 kilometers away from the coast, and patrol boats and tugboats of the Japan Coast Guard were on standby at the scene. As of 7 pm on August 11, the 8 Chinese crew members and 13 Philippine crew members on board were all rescued and evacuated safely by the helicopter of the Coast Guard.
After the accident, Japan Post quickly set up an accident handling team headed by company president Toshizawa, and dispatched personnel to the scene of the accident. The company stated that they would do its best to cooperate with shipowners, ship management companies and relevant parties to resolve this issue as soon as possible.

The "Crimson Polaris" ship was loaded with 44,000 tons of wood chips from Thailand to Hachinohe Port. According to an announcement issued on August 11 by the Maritime Security Headquarters of the Second District of Japan, there are approximately 1,675 tons of fuel oil and 4.3 tons of lubricating oil on board. Japan Post is currently confirming the amount of fuel leak.

The Maritime Security Headquarters of the Second District said that the fuel on the "Crimson Polaris" is currently overflowing to the north in a large area. The oil spill zone observed by the patrol boat is 5.1 kilometers length and 1 kilometers width in Misawa City,, they has set up a security headquarters to collect information about the situation at 15 kilometers north of the accident site,because the accident may affect the fishery.

For fuel oil leakage,it need

oil booms

and

oil absorbent pads

for controlling and absorbing the fuel oil.and finally used

oil spill dispersants

for oil spill cleaning.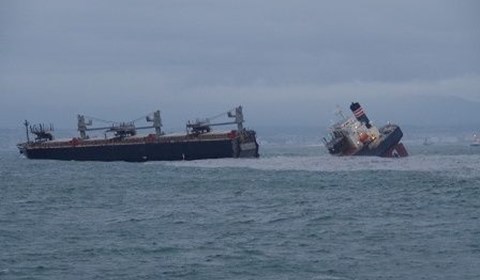 << Back