Yantai Port's first multi-purpose oil recovery vessel was ready
14/Mar/2019
At present, Yantai Port's first multi-purpose oil recovery vessel "Yangang Jiehai 1" tanker was carried out practical exercises.

This offshore oil recovery vessel, which is invested and built by the stock company and managed by the ship company, it has a length of 70 meters, a width of 11 meters, a depth of 5.5 meters and a total tonnage of 1,255 tons. It is the largest multi-purpose offshore oil vessel in the country. sea surface oil recovery capacity was 150m3 / hour, it can meet the oil spill emergency equipment allocation requirements of 300,000 tons and above. This round is a supporting ship tailored for the crude oil terminal of Xigang District of Yantai Port. It can carry out oil recovery and storage and transfer of sea block oil, garbage and spray

oil dispersant

when a major ship oil spill occurs at sea, it has many

oil absorbent pads

and

oil booms

for oil spill control and recovery in the ship, and it also can effectively conduct on-site command, dispatch, guardian and emergency response work.

Because the oil recovery ship has difference with the existing ships in Yantai Port such as control system, internal structure and emergency equipment, and it has the characteristics of strong professionalism and complicated operation. To this end, on the basis of ensuring the full capacity of the ship, the wheel bar company selects the backbone forces from each ship and sets up an emergency detachment to ensure that there is sufficient reserve of professional emergency personnel in response to the oil spill in the sea.

In order to form the maritime oil cleaning ability of the ship as soon as possible, the wheel company has carefully arranged the actual drills, organized the static exercises of the docks and the dynamic exercises at sea to achieve the skilled operations hard indicators.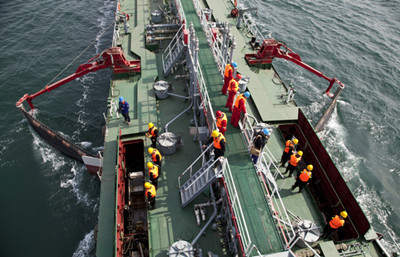 << Back