Nantong successfully disposed a ship sinking and oil spill accident
26/Oct/2019
On the 16th, Nantong City Transportation Comprehensive Administrative Law Enforcement Detachment released a message. After hard work, the detachment law enforcement department successfully disposed a ship sinking and oil spill accident that occurred in the waters west of the Tonglv Bridge of Tonglu Canal. The accident did not cause serious pollution damage to the Tonglu Canal waters.
At 8 o'clock on the morning of the 13th, the duty department of the Municipal Administrative Comprehensive Law Enforcement Detachment received an alarm call that a ship occurred sank accident in the Tonglu Canal and the ship also happened oil spill. After received the police, the detachment leader immediately arranged traffic law enforcement officers to rush to the scene of the accident. After investigation of the accident site, the accident ship was No. 1769 Susihong. The length of the ship was 40 meters and the width was 7 meters. Only the bow cab was exposed above the water surface, and the aft cabin part of the ship continued to overflow from the hull.
"Never let oil pollution pollute the water!" After saw this scenario, traffic law enforcement officers quickly implemented control over the waters surrounding the accident. They mobilized two law enforcement boats, Suhai patrol 0618 ship and Suhai patrol 0616 ship, and immediately rushed to the scene to carry out oil removal work by deploying

oil booms

and

oil absorbent pads

. At the same time, they contacted the ship salvage operation units to carry out the ship salvage work. After more than three hours of intense cleaning operations, they were quickly cleared the spilled oil. Subsequently the shipwrecked work was immediately carried out.
At 4 pm on the 15th, the relevant clean-up and salvage work were basically completed. The Municipal Traffic Comprehensive Administrative Law Enforcement Detachment continued to monitor the accident waters in real time, and timely salvage and rescue the remaining floating objects and oil spills to ensure the safe navigation and clean waters of the vessels in the accident waters.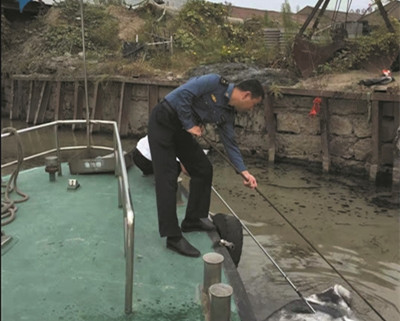 << Back