Zhenhai Port Area was held Yongjiang Waterway annual oil spill emergency drill
11/Nov/2019
Recently, Yongjiang Waterway annual oil spill emergency drill was held at No. 10 berth in the harbor area of ​​Zhoushangang Town, Ningbo.

The drill aims to establish and improve the emergency response mechanism for dealing with sudden oil spills in ports, improve the emergency support and coordination abilities, improve the command and dispatch system of emergency rescue forces at all levels, and improve the organization and command of disaster relief and disaster relief, as well as the rescue forces of the society coordination capabilities, further enhance the scientific and orderly rescue awareness of all departments and related enterprises at all levels, and prevent water pollution.

At the scene of the drill, the No. 10 berth of the Zhenhai Port Area was docked with the ship "Haofu No. 6" and the ship was unloading the steel. At the same time, the refueling operations of the marine fuel oil were carried out by means of the car-ship pipe. Due to the breakdown of the fuel line, fuel leakage occurred and a large amount of fuel oil fell into the Yongjiang River.
"There is oil pollution here." After received the oil pollution report, the emergency command center immediately notified the Yongjie company, Hai'an Company, and the wheel emergency response forces, and rushed to the scene to conduct oil spill emergency and water fire monitoring.

Yongjie Company, Hai'an Company and the ship of the wheel arrived at the scene one after another, and then they dealt with the oil on the surface and began to cast a 200m inflatable

oil booms

. Finally, the ship's oil spill is controlled to effectively prevent environmental pollution in theYongjiang Waterway.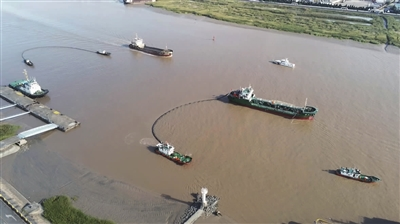 << Back