Yibin City held 2019 annual water pollution prevention comprehensive emergency rescue drill
08/Jan/2020
It is reported that in order to strengthen the rapid response and emergency response capabilities of water emergencies, timely and effectively implemented emergency rescue and rescue work to minimize human casualties and property losses. In the afternoon of December 27, the Yibin Maritime Bureau cooperated with Sanjiang Water Rescue Service Center to held 2019 comprehensive water pollution prevention emergency rescue drill at the Xianglutan Wharf. The entire drill was divided into three subjects: "rescue of drowning personnel in the ship, rescue of ship fires and recovery of oil spills from ships".

At the end of the rescue, the rescue department found that an oil barrel fell into the river during a ship fire rescue and an oil spill occurred. The rescue department immediately issued instructions to organize search and rescue forces to carry out recovery of oil spills from ships. It was used

oil absorbent pads

and

oil absorbent booms

. After the recovery was completed, the river surface resumed navigation. The layout of entire drill fits the actual situation, and emergency operations are close to actual combat.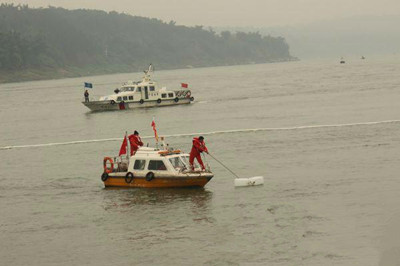 << Back