A large-scale water rescue rescue drill was staged in Yibin
21/May/2020
At 10:12 on May 12, when the "Xiangyun 077" ship ascended into the water area of Xianglutan Wharf in Jiang'an County, the water level of the Yangtze River rose sharply, the floating matters on the river surface increased, and the propeller was entangled with debris, resulting in insufficient power for the ship.The ship immediately took emergency response measures and reported to the maritime department that it planned to berth "Changning No. 1 Barge", at this time, a crew member was tripped over by the ship's steel rope and accidentally fell into the river. The captain immediately threw a lifebuoy for self-rescue,and due to the operations of the main engine of the ship for a long time with a large throttle, the explosion of the high-pressure fuel pipe in the engine room caused a fire in the engine room. Immediately, the ship lost power, the ship was out of control and drifted downstream along the water, and may hit the Jiang'an Yangtze River Bridge.

After received the danger report, the maritime department immediately reported it to the Jiang'an County Government and the Yibin Maritime Bureau, and organized the Yangtze River Channel, Changhang Public Security and local transportation and shipping official boats and personnel to rush to the scene to deal with the danger. At 10:25, the "Sea Cruise 12276" ship of the Nanxi Maritime Department in Yibin and the "Sea Cruise 12277" ship of the Jiang'an Marine Department in Yibin arrived at the incident area and immediately formed two interceptions and rescue networks for falling water personnel. Maritime law enforcement officers used automatic lifebuoy equipment for precise rescue. After rescued the drowning personnel, the maritime personnel immediately performed cardiopulmonary resuscitation and artificial respiration to the drowning personnel. After he recovered the consciousness, the injured personnel were quickly sent to the 120 medical ambulances which was waiting at the pier.

At 10:35, the ships of the Yangtze River Maritime Department, Changhang Public Security Department and the Yangtze River Waterway Department fully extinguished the fire position of the fired "Xiangyun 077" engine room. The maritime law enforcement personnel immediately turned on the fire fighting equipment of the boat to extinguish the fired ship. And also use some

oil absorbent pads

and

oil absorbent socks

for fuel leakage cleaning in the pipeline. After about 20 minutes of fire rescue, the ship's fire was successfully extinguished and there was no possibility of reignition. At 10:51, "Xudaobiao206" ship and "Xudaobiao 203" ship safely transferred the personnel in out-of-control "Xiangyun 077" ship, and boosted the ship's safety to "Changning No. 1 Barge" for binding, then it successfully responded to the ship and successfully dealt with the danger of ship losing control. After nearly an hour of emergency drills, the comprehensive rescue drill ended successfully.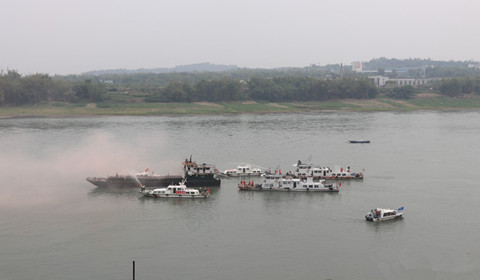 << Back