Jiaxing hold Hangzhou Bay oil spill emergency drill
13/Oct/2020
Recently, the "2020 Hangzhou Bay oil spill emergency drill"as held in the waters of the Dushan Port Terminal in Jiaxing, Zhejiang. Which was sponsored by the Jiaxing Municipal People's Government and undertaken by the Jiaxing Marine Oil Spill Emergency Center. More than ten water-wading units in Jiaxing City participated in the exercise, with 9 ships dispatched and more than 120 participating personnel. Representatives of more than 30 units including members of the Jiaxing Marine Oil Spill Emergency Center observed the scene.

The drill was simulated a collision between an oil tanker full of 10,000 tons of crude oil and an ordinary cargo ship at the Chenshan anchorage in Jiaxing, Zhejiang, causing damage to the tanker's cargo compartment and fire. The crude oil leaked into the sea and 19 crew members were in danger. After the danger was occurred, the Jiaxing Marine Oil Spill Emergency Center immediately organized and carried out oil spill emergency operations in accordance with the "Jiaxing Marine Ship Pollution Accident Emergency Plan". The drill is divided into alarm reception and information verification, evaluation and reporting, emergency response initiation, emergency force assignment, personnel rescue, fire fighting, oil spill containment and control by using

oil booms

and

oil absorbent pads

, ship plugging, cargo oil transfer, ship disaster control, surveillance and monitoring, accident assessment,emergency response termination and other links,it was focused on oil spill emergency operations such as on-site force organization, coordination, command, equipment use, and on-site operations.

After about 90 minutes of intense coordinated operations, the crew in distress was successfully rescued, the ship in the accident was extinguished, the source of the oil spill was effectively controlled, the oil spills at sea and shoreline were basically cleared, and the surrounding maritime sensitive resources were effectively protected. 2020 Hangzhou Bay oil spill emergency drill has successfully completed various drill projects.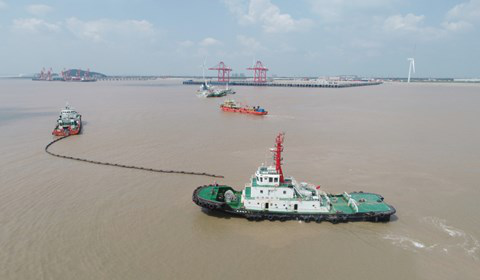 << Back