Ningbo holds a comprehensive emergency drill for the leakage of hazardous chemicals on board ships in the port area
03/Jun/2021
On the afternoon of June 2nd, during the annual safety production month, a comprehensive emergency drill for the leakage of hazardous chemicals carried by ships in Ningbo Port was held in the waters in front of the terminal of Zhenhai Port Co., Ltd.

The drill was simulated when the "Kangfa 87" ship was operating at berth 19 of Ningbo Zhenhai Port Co., Ltd., due to the cracking of the flange surface at the junction of the pipeline and the oil transfer arm, causing about 20 tons of paraxylene to overflow, and the ship was poisoned when the ship was carrying out self-rescue. After the accident, the ship and terminal quickly implemented emergency response, and at the same time they reported the accident to the Ningbo Maritime Search and Rescue Center and other relevant units. After receiving the report, the Ningbo Maritime Search and Rescue Center immediately carried out an accident assessment, activated an emergency response plan, implemented traffic control on the waters where the incident occurred, commanded and coordinated relevant forces to carry out emergency response. The pollution removal agreement unit of the accident ship—Ningbo Yongjie Oil Spill Emergency Service Co., Ltd., and the decontamination forces in the Zhenhai area of Ningbo Port Area Joint Defence Body under the dock immediately rushed to the site to carry out decontamination operations. Ningbo Emergency, Ecological Environment, First Aid Center and other departments carried out emergency rescue in a timely manner, tracked and monitored the pollution situation around the incident, and rescued the injured.

After the emergency plan was activated, all units responded quickly, carried out work such as fire fighting, pollution cleaning, and water traffic control in a timely manner, followed up and monitored the surrounding environment and sea pollution, and organized rescue of the injured. With the joint efforts of all emergency personnel, the wounded were successfully transferred to the hospital for treatment, the docks and ships were successfully blocked, and the sea surface pollutants were effectively removed by using

oil booms

and

chemical absorbent pads

.

In this drill, there were 8 participating units, 12 ships, 5 professional vehicles, and more than 100 personnel participated. It involves 12 exercise subjects including ship firefighting, personnel first aid, leakage inspection and plugging, and sea surface pollutant removal,etc.It was strengthened the safety awareness of water transportation of dangerous goods for port and shipping companies, and the rapid response and cooperative combat capabilities of the member units of the Ningbo Maritime Search and Rescue Center have been effectively tested.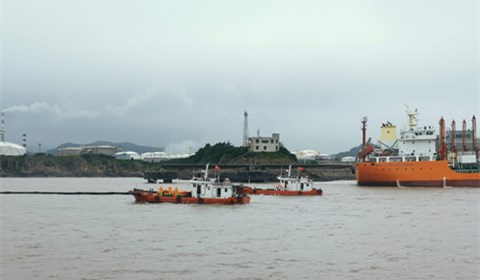 << Back