Shengtaicheng waters commercial fishing boats collision and shallow waters search and rescue drill
14/Oct/2021
Our ship was collided with 'Jinhanyu 04923' ship about 1 nautical mile southwest of the central fishing port channel. The stern of our ship caught fire. We were organized the crew to put out the fire, requested rescue." Following the alarm signal from the high-frequency intercom, Shengtaicheng waters commercial fishing boats collision and shallow waters search and rescue drill was held in Tinajin center fishing port waters.

This special drill was divided into two parts: Firstly it was simulated a collision between a construction boat and a recreational fishing boat, individual passengers on the recreational fishing boat were injured and urgently in need of medical treatment; the construction boat caused damage to the stern oil tank due to the collision of the ship, and the fire of the fuel spilled ship; then it was simulated the small yacht capsized in shallow water and the two people fell into the water and needed search and rescue. The exercise subjects included 7 subjects including passenger transfer of tourist ships, transfer of injured people and medical treatment, emergency towing, ship fire fighting, oil spill containment and removal by using

oil booms

and

oil absorbent pads

, underwater exploration and shallow water personnel search and rescue. A total of 17 ships, 3 unmanned Aircraft, 2 ambulances, and more than 80 people participated in the exercise. The exercise was jointly organized by the Shengtaicheng Maritime Search and Rescue Sub-center and the Dongjiang Maritime Safety Administration, aiming to test and improve the maritime search and rescue emergency support in the waters of the Shengtaicheng and the cooperation and cooperation capabilities of search and rescue member units.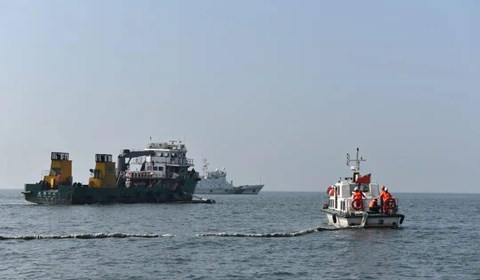 << Back