Shishi City held a maritime comprehensive emergency drill
11/Jul/2019
On the morning of June 26th, the Shishi Maritime Search and Rescue Sub-center held the "2019 Shishi maritime comprehensive emergency drill" in the forefront waters of the 4# berth of Shihu Pacific Pier in Quanzhou Bay.

The drill was led by Shi Hanjie, deputy mayor of Shishi Municipal Government and director of Shishi City Maritime Search and Rescue Sub-center, More than 100 people and 15 ships from Quanzhou Maritime Bureau, Quanzhou Port Authority, Shishi Emergency Management Bureau, Shishi City Agricultural and Rural Bureau, Shishi Marine and Fisheries Bureau, and the emergency rescue team, dock company and cleaning units in the jurisdiction participated in the drill.

The drill was included three major drills: ship fire fighting, sea life search and rescue and wounded transfer, marine oil spill monitoring, containment and clearance. The drill was simulated when a project ship carried out construction operations in the construction waters, the unexplained living area was fired. During the disposal process, two workers fell into the water. At the same time, some of the fuel was infiltrated into the sea during the ship's oil supply operations. After received the police, Shishi City Maritime Search and Rescue Sub-center quickly verified and assessed the dangerous situation, immediately launched an emergency plan, and informed the maritime emergency forces such as sea patrol boats, fishery vessels, tugboats, and voluntary rescue vessels to rush to the scene for carrying out fire fighting, life-saving assistance and oil spill treatment by using

oil booms

and

oil absorbent pads

. After one and a half hour of emergency treatment, the maritime oil spill response and fire fighting and rescue drills were all completed as planned.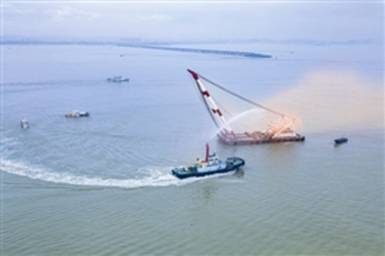 << Back