Hubei Province launched water joint oil spill drill
10/Jul/2019
On June 25, a joint environmental drill was carried out on the Yangtze River with the theme of "Improving Water Spill Response Capability and Practicing Green Environmental Development Concept."

The drill was selected in the waters of the Yangtze River Huangshi Xisaishan waters, which was complex in water. The drill was carried out in four stages: "event occurrence and initial disposal, information reception and emergency start, on-site command and comprehensive disposal, emergency termination and press release". The actual exercise site was being at Sinopec's No. 1 head of the Xisaishan Oil Depot of Hubei Huangshi Petroleum Branch. When the barge carried out loading and unloading operations, the metal hose suddenly burst, and the oil in the pipeline was sprayed outward and then gathered on the bunker deck and the boom. Within the agglomeration, the oil depot immediately launched an emergency plan for oil spills at the dock, and reported to the Huangshi Petroleum Branch, environmental protection, maritime, fire, public security, and 120 police. Due to the large wind and waves on the river surface, oil spilled and spread outside the oil booms. Huangshi Petroleum Branch immediately launched an emergency plan for water spills and reported reinforcements to Sinopec's sales of Hubei Petroleum Branch and Sinopec Sales Huazhong Branch. Due to the threat of oil pollution to the downstream drinking water source, Huangshi Eco-environment Bureau launched the "Hhuangshi City Emergency Response Plan for Emergency Response" level III response, and placed

oil booms

,

oil skimmers

and

oil absorbent pads

for oil recovery in the waters of the incident., they promptly disposed the danger, and detected the water quality around the incident that they were all qualified.

During the drill, the seven teams worked closely together and responded quickly. The eight oil booms forced the leakage of oil and cleaned vessels into the recycling mode- "strong oil absorption", drone aerial monitoring and sampling, etc. It attracted the attention and excitement of more than 200 spectators at the scene.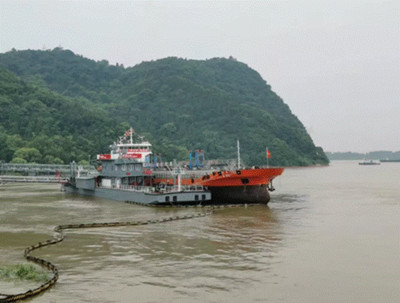 << Back