Nanjiang Maritime organized to hold joint maritime emergency drill
27/Sep/2019
Recently, Nanjiang Maritime Bureau cooperated with the Tianjin Port Petrochemical Terminal Company to successfully held joint maritime emergency drill at the Tianjin Port Petrochemical Terminal.

This drill was simulated when an oil tanker was carrying out unloading operations, oil spill was occurred, they a series of emergency actions were carried out. The drill was included ship fire protection, oil spill control by deploying

oil booms

, pollutant removal by using

oil absorbent pads

and other subjects, and dispatched 10 ships and more than 90 participants. Representatives from the member departments of the Nanjiang Government Department, the Tianjin Maritime Bureau, and the Nanjiang Port Area Maritime Emergency Response Mechanism observed and guided the drill.

Nanjiang Port Area is the port area with the largest cargo throughput and the largest number of ships entering and leaving Tianjin Port. It bears all the crude oil throughput functions of Tianjin Port and has the only 300,000-ton crude oil terminal in Tianjin Port. The task of preventing and controlling oil spills on the sea is very arduous. The drill was focused on close combat, verified the effectiveness of the maritime emergency plan in the Nanjiang port area, and significantly promoted the coordination and cooperation level of the members of the maritime emergency linkage mechanism in the Nanjiang port area in the maritime emergency combat.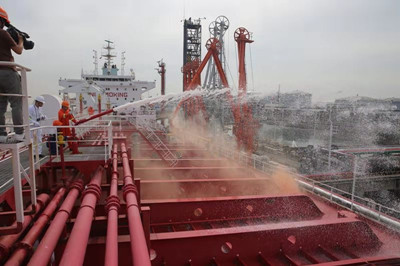 << Back