Maoming launched emergency drill for the collision of merchant ship and fishing boats
30/Jul/2020
The drill was simulated a collision between a merchant ship leaving the port and a fishing boat entering the port, it was caused one crew member of the merchant ship and one from fishing ship to fall into the water. The fishing ship was in danger of sinking, and there was a risk of oil spill contaminating the sea. The drill was included life rescue on water and ship oil spill emergency response.

At 3:00 pm yesterday, the Maoming Maritime Search and Rescue Center received an alarm. After verifying the danger, they immediately activated the emergency response plan for marine emergencies, assigned marine cruisers to the accident area, formulated specific life-saving measures and organized their implementation. At the same time, they contacted Dianbai Fishery Administration and Zhonghe Anti-pollution Company to immediately assign fishery administration and anti-pollution vessels to the scene for emergency treatment. After the search and rescue ships arrived at the scene, the "Hai Xun 09500" ship was used as the on-site command ship to direct the ship to search and alert the waters near the accident. The Shuidong Maritime Department used drones to assist in sea search and rescue work; "Zhonghe 01" ship from Zhonghe Anti-pollution Company carried out

oil booms

for deploying and controlling on the accident vessel, closely observed the ship's oil spill, and prevented accidents in the sea contaminated by oil spills. After more than an hour of joint rescue, all the drowning crew members were successfully rescued. There was no oil spill on the sea. The emergency drill was ended successfully.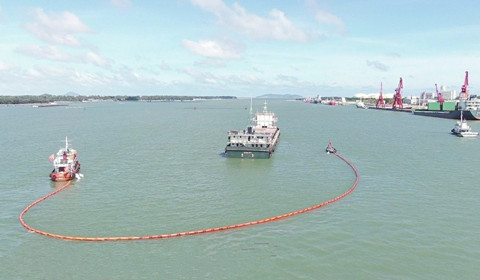 << Back