Zhejiang Cangnan Power Plant conducts ship oil spill emergency drill in 2021
09/Sep/2021
In order to improve the anti-pollution emergency response capacities of key dangerous goods terminals in the Aojiang area, test the proficiency of port enterprises in the use of anti-pollution equipment in actual combat, and timely discover deficiencies and make up for shortcomings. On September 1, Wenzhou Aojiang Maritime Affairs Department and Cangnan The County Port and Shipping Center instructed China Resources Zhejiang Cangnan Power Plant to carry out the 2021 ship oil spill emergency drill.

This drill was simulated a collision between the patrol ship "Cangbao 1" and a entering and leaving cargo ship, it caused fuel leakage into the sea. At 09:15, when the accident occurred, "Cangbao 1" ship launched the ship's oil spill emergency plan, immediately reported the accident to the Wenzhou Maritime Safety Administration Command Center and the General Duty Office of China Resources Cangnan Power Plant, and organized the crew to stop the leak to prevent the oil spill from expanding. At 09:20, China Resources Cangnan Power Plant launched the "Terminal Oil Spill Prevention Emergency Response Plan", and established an emergency headquarters, an on-site isolation team, an oil spill recovery team, an on-site rescue and logistics security team to carry out disposal work. At 09:45, the "Cangbao 1" ship was successfully plugged. The Wenzhou Aojiang Maritime Department organized a cleanup force to carry out on-site containment and cleanup. The on-site isolation team organized the deployment of oil booms to achieve containment and control of oil spills. At 10:00, the cleanup vessel entered the containment area for oil collection operations by using

oil booms

and

oil absorbent pads

. At 10:30, the oil spill site was under control, the cleanup work was basically completed, and the drill was ended successfully.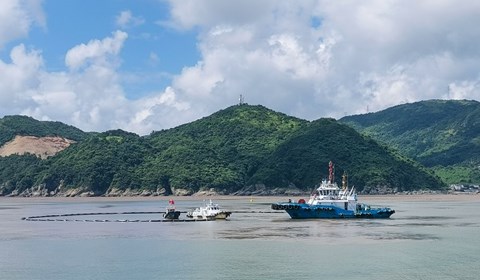 << Back