2021 Dalian Bay undersea tunnel engineering safety assurance comprehensive emergency drill
01/Sep/2021
At 9 o'clock in the morning, as the accident alarm signal sounded, the drill was officially begun. The simulated accident ship reported to the Dalian Maritime Search and Rescue Center, saying that the ship had collided with the undersea tunnel engineering ship during the voyage, the ship caught fire and some people were injured, and requested rescue. After receiving the police, the search and rescue center immediately initiated a secondary response in accordance with the emergency plan, and organized maritime patrol boats, professional rescue assistance, government officials and social forces to rescue.

At 9:17, the transfer of the injured was completed; at 9:30, the fire on the ship and the fire on the sea were successfully extinguished, and oil spill containment control was carried out by using

oil booms

. After completing the emergency treatment of the oil spill at sea by using

oil absorbent pads

subsequently, the accident ship suddenly reported that when counting the number of people, they found 2 crew members missing,they were suspected of falling into the water during the operations, and we need search and rescue. At 10:10, the people who fell into the water were rescued safely and the drill was ended successfully.

This drill is aimed at the maritime search and rescue emergency and pollution prevention risks of the submarine tunnel construction project. After a collision between a bulk carrier and a tunnel construction ship,it caused the maritime emergency,they carried out the risk reception and assessment, plan activation, personnel transfer, fire fighting,oil spill containment,control and removal, and personnel search and rescue, etc., it fully demonstrated the entire process of maritime emergency response. Participating forces included professional firefighting ships, tugboats, oil boom deployment ships, cleanup ships and maritime emergency volunteer teams, etc., and used new equipment such as drones, self-driving boats, and 3D sonar scanning to carry out personnel rescue. A total of 23 boats of various types, 2 drones, and more than 190 people participated in the drill.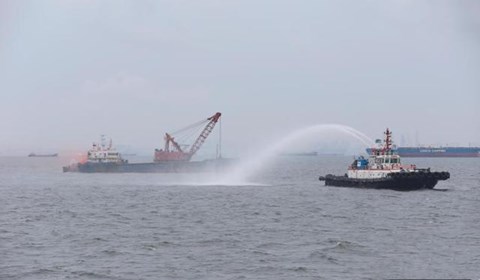 << Back