2021 Jilin Province Songhua River water search and rescue drill
03/Sep/2021
At 14:00, when the "Ji Changchun Cargo 7730"ship(belonging to Dehui Jiansheng Sand and Stone Co., Ltd) was passing through the waters of Shuanghe Village, Chaoyang Township, Dehui City, Songhua River, it was meeting the "Ji Changchun Ferry 6043" ship crossing the river. The pilots of the two ships did not have enough visibility and did not take emergency evasion at a safe speed, it resulted in an urgent situation. When the crew was in a panic, they collided due to improper operations.

The collision caused the "Ji Changchun Carry 6043" ship to collide and catch fire. The fire quickly lost control and spread. The ship immediately lost control. Two crew members and 10 passengers on board were trapped, and the passengers wanted to dive into the water to escape.

When the captain organized the fire extinguishment, at the same time,he immediately called the maritime agency in his jurisdiction.

After discovering the danger in the monitoring system and receiving the report of the Dehui accident, the Local Maritime Safety Administration of Jilin Province immediately activated the water spill and search and rescue emergency plan and coordinated the rescue efforts of all parties to rush to the waters where the incident occurred, they searched and rescued the people who fell into the water, and transferred the personnel in distress, then they implemented a series of emergency response activities such as ship rescue, ship firefighting and ship oil disposal by using

oil booms

and

oil absorbent pads

.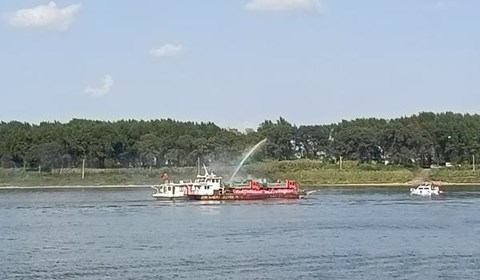 << Back