Macao held maritime oil spill accident drill
30/Oct/2019
In order to strengthen the cooperation and coordination capabilities of various units of the Macao SAR government in maritime rescue and environmental emergency response, on October 22, the Macao Maritime and Water Affairs Bureau, the Customs and the Environmental Protection Bureau jointly held a maritime oil spill accidents joint drill.

The drill was simulated a cargo ship carrying kerosene accidentally hitting the navigation mark, the bow was broken into water, and the kerosene on the ship leaked into the sea. After received the notice, the Macao Ship Traffic Management Center immediately launched the "Marine Accident Emergency Plan", and the Macao Maritime Search and Rescue Coordination Center immediately put into operations and directed the rescue operations.

Upon received the instructions, the Customs patrol vessels arrived at the scene and immediately began rescue work to assist the crew on the vessel to evacuate quickly and safely, maintain the sea order in the sea, and dispatched drones to supervise the scene.

Immediately after arriving at the scene, the Maritime and Water Affairs Bureau used oil pollution treatment equipment such as

oil booms

,

oil absorbent pads

and

oil skimmers

to clean up the leaking oil and prevent the oil from spreading at sea, and then they notified the Environmental Protection Agency to attend the scene according to the mechanism.

After received the environmental emergencies message, the Environmental Protection Agency launched an emergency response team in accordance with the "Macao Emergency Response Plan for Environmental Incidents", they used the drones to conduct environmental monitoring and water sampling on the accident site, and conducted water quality emergency monitoring in the surrounding waters and learnt about the extent of the impact of pollution.

The entire drill was lasted about 2 hours and the process went smoothly. The participating vessels and personnel were able to quickly carry out rescue and disposal operations in accordance with the requirements of the emergency plan to reduce the impact of oil spills on the marine environment.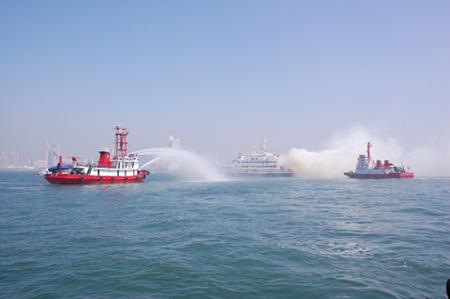 << Back