Hunan Chenzhou was held water transportation rescue and pollution prevention drill
03/Aug/2020
Hunan Chenzhou water transportation safety emergency rescue and water transportation pollution prevention drill was held in the waters of Changyingtou Wharf in the Dongjiang Lake reservoir area.

The drill was simulated when the "Xiangzi Xinghuo 00011" ship was on its way to Changyingtou Pier 7, the ship lost control and deviated from the channel and hit the rocks from 500 meters away the pier, the ship's bulkhead was damaged, resulting in diesel leakage and fire, and a crew member on board fell into the water. After receiving the alarm, the emergency command center immediately activated the emergency response plan according to the danger, and ordered the passing ships to come to rescue through the VHF communication system. According to the principle of nearby rescue by sub-area, the emergency rescue team immediately notified the emergency rescue team to rush to the scene. At the same time, maritime rescue personnel rushed to the scene as soon as possible to participate in and guide emergency rescue work, organized to rescue the drowning crew member, and do a good job of fire fighting, ship plugging and preventing pollution(by using

oil booms

and

oil absorbent pads

). Finally, after all the rescue efforts of all parties, the drowning crew went ashore safely, the firing ship was put out, the oil spill on the lake surface was contained and cleared, and the ship in distress was safely towed away to the designated safe area, and the danger was relieved.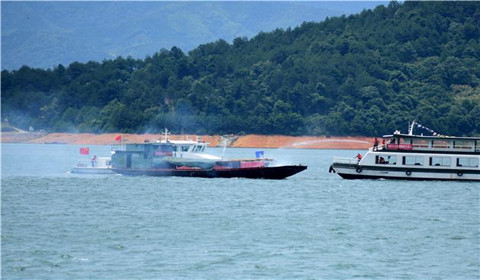 << Back