large-scale comprehensive emergency drill for hazardous chemical accidents
07/Jun/2021
National Emergency Rescue of Hazardous Chemicals Sinochem Zhoushan Team and Zheneng Group carry out large-scale comprehensive emergency drill for hazardous chemical accidents.

The drill was simulated the fire and burning of the oil storage tank of the Huangzeshan Petroleum Storage and Transportation Base of Zhejiang Energy Group, and the base's rescue force was insufficient. The National Work Safety and Rescue Center ordered the Sinochem Zhoushan Team to provide emergency support.

After receiving the order, the Sinochem Zhoushan team quickly initiated an emergency response, dispatched 30 commanders and fighters, a large-flow remote water supply system and auxiliary fire extinguishing module, and cooperated with the "Sinochem Emergency" support ship to rush to Huangzeshan Petroleum after a 4-hour sea voyage for emergency support.

Combining the actual characteristics of the suspended-water oil island, the drill was set up the accident scenario strictly, it was set up cross-regional force mobilization, maritime power transportation, rescue force island launch, maritime oil spill fire fighting, offshore oil spill recovery by using

oil booms

and

oil absorbent pads

, large-scale storage tank fire extinguishing,continuous supply of medicaments on isolated island,on-site communication command on isolated islands, on-site sewage collection and elimination these 9 subjects, the whole process was pulled by actual combat modularization, effectively tested the emergency preparedness of suspended oil island accident rescue plans, maritime rescue forces, maritime communications, equipment and materials , it was laid a solid foundation for optimizing rescue plans, improving coordination mechanisms and material guarantee mechanisms, improving command efficiency, and effectively responding to oil storage tank fire accidents.

Through the drill, the mobile combat capabilities, long-term combat self-support capabilities, and professional handling capabilities for large-scale hazardous chemical accidents at sea for Sinochem Zhoushan team's cross-regional were further tested.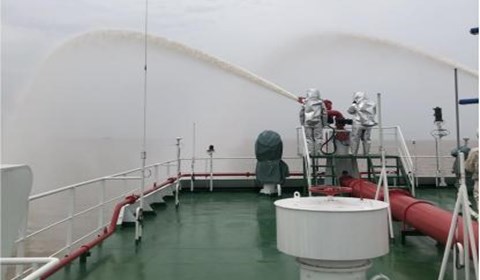 << Back