Nanjing Maritime Safety Administration organized oil spill recovery ship launching operation drill
18/Aug/2021
In order to strengthen the daily operation management of the Nanjing Ship Oil Spill Emergency Equipment Depot, and ensure the emergency response and disposal capabilities of oil spills on the water, the Danger and Prevention Department of the Nanjing Maritime Safety Administration recently organized the oil spill emergency equipment depot to carry out an oil spill recovery ship launching drill. At the same time, they will conduct a semi-annual inspection of the maintenance and management of the equipment warehouse.

The equipment warehouse personnel first hauled the oil spill recovery ship from the equipment warehouse to the outdoors with a small flatbed truck, and then drove the truck crane to lift the oil spill recovery ship from the flatbed truck to the drill pool. At the same time, the ship driving and oil spill recovery(by using

oil absorbent pads

and

oil skimmers

) subjects were carried out in the drill pool. It was completed the whole process rehearsal of ship oil spill recovery heavy equipment from transfer out of the warehouse to actual operations, and verified the emergency operation abilities of the equipment warehouse personnel and the effective operations and use of the oil spill emergency equipment. Subsequently, the inspectors checked the oil spill recovery equipment and personnel protective equipment in the equipment warehouse, and checked in detail the equipment warehouse material entry and exit accounts, daily maintenance records, etc., and also learned about the use loss,obsolescence and existing problems of some equipment, then put forward relevant opinions.

The Nanjing Maritime Safety Administration will urge the oil spill emergency equipment warehouse management unit to further improve the equipment warehouse operation management and emergency drill mechanism, and continuously improve the efficiency of water emergency response and emergency rescue capabilities.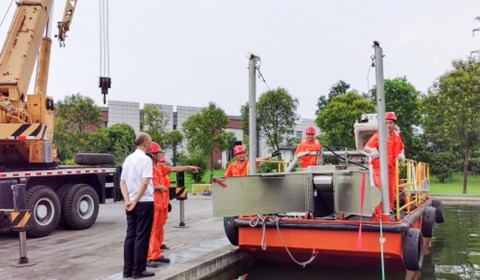 << Back