Zhuhai held a large-scale offshore wind power comprehensive emergency rescue drill
24/Sep/2021
Zhuhai Jinwan Offshore Wind Farm was holding 2021 large-scale offshore wind power comprehensive emergency rescue drill. This emergency rescue drill was sponsored by Guangdong Energy Group Co., Ltd., and undertaken by Guangdong Yudean Zhuhai Offshore Wind Power Co., Ltd. and Zhuhai Offshore Search and Rescue Center (Zhuhai Maritime Safety Administration). 13 ships, 1 rescue helicopter, 2 ambulances and more than 300 personnel from 10 units including Zhuhai's maritime affairs, emergency, rescue, health and Yuedian Zhuhai Wind Power participated in this drill.


This drill was simulated the ship "Zhonglan 68" was out of control and collided with the Zhuhai Jinwan wind field sea booster station during its voyage, causing three crew members to fall into the water, the sea booster station failed and caught fire, and an operation and maintenance personnel on the booster station was injured and unconscious. Based on this, the Zhuhai Maritime Search and Rescue Center Office coordinated the rescue forces of all parties to carry out drills such as personnel rescue, fire fighting, lifeboat escape, and oil spill emergency handling. During the drill, marine and land rescue personnel, emergency management personnel, boat and helicopter pilots obeyed the command of the on-site command ship "Hai Xun 0935", they performed their duties, cooperated with each other, and responded quickly. The entire process was carefully deployed, efficient and orderly, and focused on actual combat. Actual results have achieved good expected results. Among them, in the oil spill emergency response exercise, rescuers set up

oil booms

around the booster station to carry out emergency oil spill response work to remove oil pollution.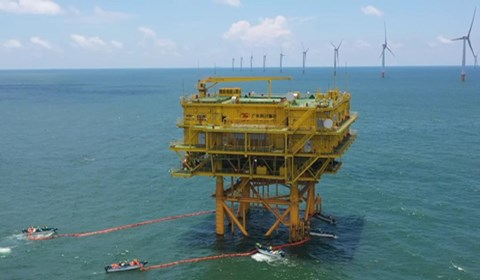 << Back