Suburban fishery law enforcement team carried out joint ship firefighting and life-saving drills
17/Sep/2021
Recently, the suburban fishery law enforcement team has cooperated with Jiamusi Qianjin Maritime Department, the Municipal Public Security Bureau, and the Municipal Environmental Protection Bureau to carry out ship fire-fighting and life-saving drills during flood seasons.

The drill was simulated when the tourists taking the "Hanrui" ship to visit the scenery on both sides of the Songhua River. The ship burst into flames. The crew promptly reported to the Jiamusi Water Search and Rescue Command Center. The Jiamusi Water Search and Rescue Command Center assigned Haixun 13204 ship to the scene to participate in the command and rescue. Hiaxun 13615 ship guards the waters in distress. During the drill, the "Hanrui" ship personnel dived and escaped. The speedboat of the public security department rushed to the distressed waters to rescue the diving personnel. Haixun 13204 ship, Jiasongdu 406 ship, Jiakeyou 418 ship, and Yuzheng 23619 ship conducted emergency joint firefighting of the fired ships. After the fire was extinguished, Jiahuan Supervisor 616 ship went to the waters where the incident occurred, and then monitored the water quality. The entire drill lasted 30 minutes and ended successfully.

It is currently in the flood season of the Jiamusi section of the Songhua River. The drill is aimed at passenger ship during the flood season, it covers three major aspects: water rescue, ship firefighting, and water pollution prevention by using

oil booms

and

oil absorbent pads

, it has comprehensively inspected ship self-rescue capabilities, ship-to-ship assistance and rescue capabilities, crew emergency response capabilities and shore-based support capabilities,and good results have been achieved, which has further improved the emergency response capabilities of passenger ships during the flood season.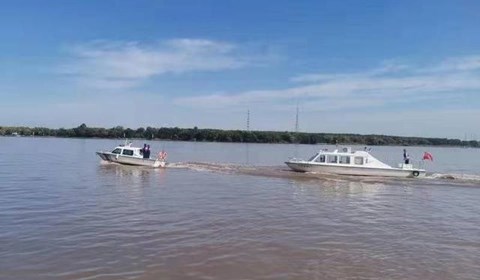 << Back