Huangpu Maritime launched CIIE core area waters emergency drill
21/Oct/2021
At 14:00 on October 18, under the guidance of the Shanghai Maritime Safety Administration, the Huangpu Maritime Safety Administration carried out the 2021 Huangpu River passenger ship comprehensive emergency drill in the waters of No. 3 U-turn Zone in the core control area. The subjects of this drill included emergency treatment of sudden fire on yachts, safe transfer of personnel, rescue of lives on the water, emergency treatment of pollution prevention in the waters of ship oil spills, emergency treatment of public opinion, etc.

After the start of the drill, the participating ships reported the danger of smoke emission and overboarding personnel situation.The command center immediately assigned three patrol boats to the scene for emergency response. At the same time, personnel search and rescue work was carried out. The command center informed the Political Department to do a good job of monitoring public opinion, collected data at any time, released external information in a timely manner, and dispatched on-site patrol boats to assist in extinguishing fires, and at the same time, they directed matching ship-type yachts for emergency mutual rescue, assisted in transferring tourists through barge, and contacted "Hudongan X" ship, "Huhuanhuo 1XX" ship and "Huxiao X" ship to go to the scene for onsite clean up, tow and fight fires. 15 minutes later, two people who fell into the water were rescued and their vital signs were normal. After 22 minutes, the open flame was basically extinguished. After 27 minutes, the cleaning forces began to clean up the dirt on the spot by using

oil booms

and

oil absorbent pads

. After the channel conditions were basically stable, the General Operations Department and the Security Inspection Center will carry out follow-up maritime investigations and safety inspections, and the Political Department will continue to monitor the state of public opinions.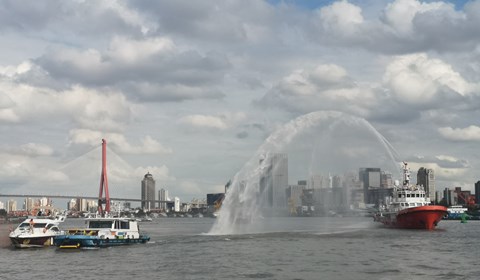 << Back