2021 Chongqing water emergency rescue and large passenger ship emergency disposal drill
22/Oct/2021
At the scene, it was simulated accident passenger ship "Three Kingdoms" collided with the "Haiyang 333" ship, the crew fell into the water, the cargo warehouse caught fire, the ship was out of control, and the "passengers" on the passenger ship panicked. The situation was urgent and urgently needed rescue!
After receiving the police, the Chongqing Port and Maritime Affairs Center immediately activated an emergency plan and established an on-site command center. UAVs were dispatched to carry life-saving equipment for fixed-point delivery at the first time, and at the same time, intelligent life-saving devices and high-speed assault boats were used to quickly rescue people who fell into the water. At this time, two rescue ships approached the wrecked passenger ship to evacuate passengers.

Suddenly, a deflagration occurred in the wrecked cargo ship, and the two firefighting ships "Yuxiaojiu 06 and changgongxiaozhi 902 carried out fire fighting and extinguishing treatment on the fire cargo ship, and quickly controlled the fire. In order to prevent the loss of control of the wrecked cargo ship from threatening downstream ships, bridges and other facilities, the on-site headquarters sent the multifunctional rescue ship "Yujiuyuan 111" and the high-horsepower tug "Yujiuyuan 113" to the left and right of the cargo ship, tied and dragged the interception and took it to safe waters.

one trouble followed another! When oil spills were found in the accident waters, the headquarters immediately set up two

oil booms

in the downstream waters, and rescue speedboats deployed

oil absorbent pads

in the oily sewage area to control the pollution area and ensure the water quality return to normal as soon as possible.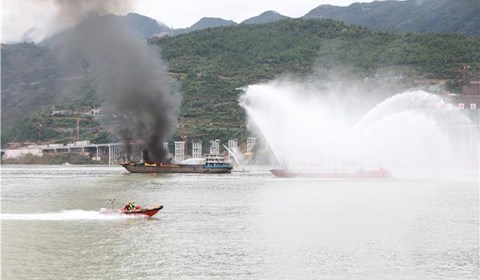 << Back