U.S. destroyer was occurred oil spill incident
09/Jun/2021
The US "Gridley" destroyer (DDG-101) is one of the "Arleigh Burke" class. It was ordered in March 1998, launched at Bath Steel Shipyard in 2004, and entered service in February 2007.

The Gridley has a displacement of 9,300 tons, it is 509.5 feet long, 66 feet wide, and has a draft of 31 feet. It is equipped with four general-purpose LM2500-30 series gas turbines, providing a dual-shaft drive with a total of 100,000 horsepower. The ship is staffed with 380 officers and soldiers, including an air unit, it is responsible for maintaining and operating two Sikorsky SH-60 "Seahawk" naval helicopters launched and retrieved from the stern.

After the Gridley was put into service, there was not much accomplishment. The most famous incident was the oil spill in Washington State. In July 2016, the guided missile destroyer "Gridley" departed from San Diego and switched to the new home port of Everett Naval Base (NSE) in Washington State. It was reassigned to the naval base of the first ship of four destroyers. In addition, the Everett Naval Base is also the home port of the "Constellation" class frigate FFG(X). A total of 12 "Constellation" class frigates will be stationed at the Everett Naval Base.
The "Gridley" recently caused an oil spill in Townsend Harbour, and emergency rescuers have begun to contain and clean up. The reason for the accident here was that the Everett Naval Base is the home port of the US Gridley, but when the warship was sailing to the Pacific Ocean, it will stop at the Indian Island naval arsenal to load fuel and food and munitions, the ship had an oil spill when it set off at the Indian island terminal.

According to a US Navy official, there were 20 US gallons (1 gallon equals 3.785 liters) of fuel leaks. Although the number was not too much, rescuers used a 200-foot-high fuel spill control arm to form a containment block to restrict fuel consumption and damage to the environment. However, the location of the US military's oil spill is located in the East Pacific Ocean,it is far away from us. We don't have to worry like Japan's discharge of nuclear waste water into the Pacific Ocean. The U.S. Navy stated that it had contained about 10 gallons in advance. The U.S. Coast Guard, Washington State Department of Ecology and the U.S. Navy jointly conducted an oil spill investigation to see why the newly constructed "Arleigh-Burke" class was leaked.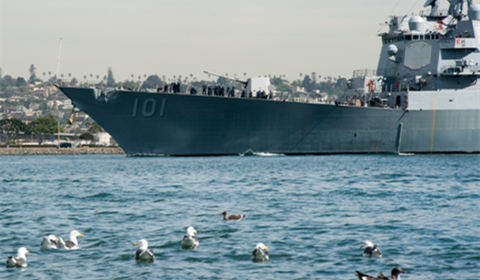 << Back