Ningbo staged an offshore crude oil transfer and oil spill comprehensive emergency drill
10/Jun/2021
Ningbo staged an offshore crude oil transfer and oil spill comprehensive emergency drill . This drill mainly consists of 4 links: emergency pumping and unberthing, oil spill containment, oil spill recovery, and oil spill dispersant release. 9 ships from 4 units participated in the drill. The drill simulated when the the second-range ship "Changhang Pearl" was transferring crude oil at the Beilun No. 9 anchorage,about 50 kgs of crude oil was entering the sea due to the aging and damage of the flange gasket of the oil pipe connecting.

After the occurrence of the danger, the crew immediately activated the "Offshore Crude Oil Transfer Spill Emergency Response Plan" and reported to the Beilun Maritime Department. According to the instructions of the Maritime Department, the first-way ship "Beihai Kaituo" was immediately notified to stop the pump to prevent the oil spill from expanding, and the on-site monitoring tug ship "Yonggang Xiaotuo No. 5" was notified to do a good job with the second-way ship "Changhang Pearl"for emergency departure work. At the same time, the ship department quickly arranged for the "Yonggang Tuo 22"ship and "Yonggang Tuo 20" ship to rush to the scene for reinforcements, and contacted the Hai'an Environmental Protection Company and Yongjie Company to arrange for the "Haian No. 1" ship to perform on-site vigilance and maintain the order of navigation, then they ordered "Yongjie No. 1"ship, "Yongjie No. 8" ship, "Yongjie No. 12" ship and "Environmental No. 1"ship to install

oil booms

, put

oil absorbent pads

, and spray

oil spill dispersants

for removing oil from the sea. Ship "Hai Xun 07108" also rushed to the scene to guard and guide.

After forty-five minutes of joint actions, the spilled oil was effectively removed and recovered, and the drill was ended successfully. During the drill, all participating parties had a clear division of labor, safety measures in place, and proper handling, which fully demonstrated the comprehensive capabilities of Ningbo Zhoushan Port's marine oil spill emergency response and maintenance of the marine environment.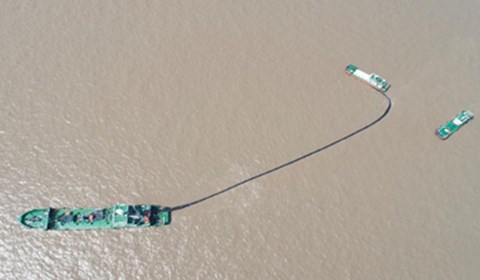 << Back