Tianjin 2021 special drill for merchant ship and fishing boat Co-governance
21/Aug/2021
At 10 am on August 19th, Tianjin Maritime Affairs and Fishery Administration organized the Tianjin 2021 Merchat ship and fishing boat co-governance special drill. The drill was dispatched 10 merchant ships and fishing boats with more than 50 participants, it was simulated the real search and rescue scene after the collision of merchant ship and fishing boat. .

This drill was simulated the collision of the empty refueling ship "Jinyuanyou 17" and a fishing boat "Jinhan Yuyun 04700". The accident caused the fishing boat to tip over and two fishing crew members fell into the water. Among them, a crew member climbed into an inflatable life raft and was successfully rescued. Another person who fell into the water went through a diver to conduct underwater exploration and coordinated with the fishery department to dispatch fishing boats near the incident waters and then carried out search and rescue operations, finally he was successfully rescued. At the same time, oil spill prevention ships cleaned up oil spills at sea by laying

oil booms

, carrying out pollution recovery operations, and spraying

oil spill dispersants

.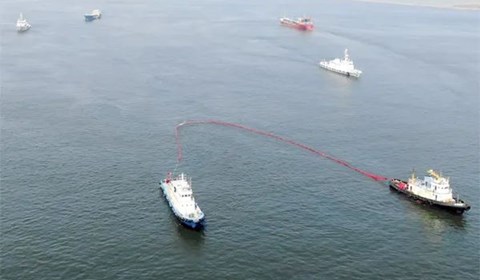 << Back