Liaoning Province Port dangerous goods production safety accident comprehensive emergency drill
28/Oct/2021
In order to further strengthen exchanges and cooperation with relevant units of Jinzhou Port and improve the handling capacities of port production safety accidents, Jinzhou Maritime Safety Administration participated in the in the Liaoning Province Port dangerous goods production safety accident comprehensive emergency drill on October 26.

This drill was organized by the Liaoning Provincial Department of Transportation and Jinzhou Municipal People's Government, and undertaken by Jinzhou Municipal Transportation Bureau, Jinzhou Maritime Safety Administration and Jinzhou Port Co., Ltd. It was a comprehensive drill which was aimed at port safety production accidents. It is divided into two subjects including port facility security and emergency response to safety production accidents. The port facility security subject was simulated a unknown ship suddenly broke into the Wugang pool of Jinzhou Port, and the relevant units expelled the suspicious ship according to the division of responsibilities; the emergency handling subject for safety production accidents was simulated the pipeline rupture and oil leakage at the ship-shore connection of an oil chemical berth in Jinzhou Port Oil, caught static electricity on the shore and caught fire. All relevant units responded quickly and organized firefighting and cleanup operations to ensure the safety and cleanliness of the Jinzhou Port waters. It was used

oil booms

and

oil absorbent pads

for oil spill disposal.With the close cooperation of all relevant units, the drill was successfully completed and the expected good results were achieved.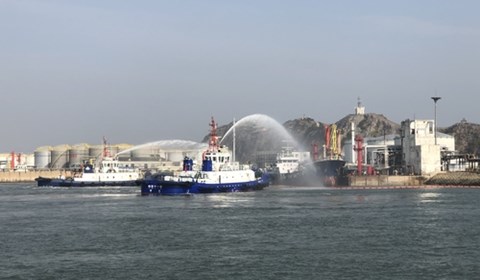 << Back