"Tongzhou-Wuqing-Langfang" water emergency disposal drill
27/Oct/2021
With the order of start, a water environment emergency response drill was launched yesterday afternoon in the Yueliang Bay, Tongzhou District. The drill was jointly organized by Tongzhou District Emergency Bureau,Tongzhou District Ecological Environment Bureau, Tianjin Wuqing District Ecological Environment Bureau and Hebei Province Langfang Ecological Environment Bureau.

It was simulated the liquid ammonia and mineral oil leakage of a Tongzhou enterprise, and part of the wastewater may flow into the Tongzhou section of Fenghe River during the disposal process. After receiving the report, the local government immediately reported to the district emergency office, and Tongzhou District initiated the emergency joint prevention and control mechanism, and notified the Langfang City Ecological Environment Bureau and the Wuqing District Ecological Environment Bureau to monitor the water quality and air quality and pollution interception preparations of the Fenghe River Langfang section and Wuqing section.At the drill site, survey and disposal personnel in Tongzhou District carried monitoring equipment to sample water and air. Subsequently,

oil booms

and

oil absorbent pads

were laid at the pollution location for absorbing the leaking liquids; for the leaked ammonia gas, they used a fog cannon car to spray water mist for treatment.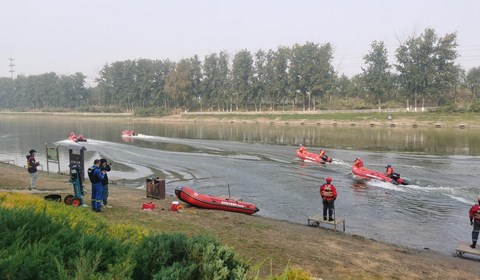 << Back