Six departments from Nanbu jointly conduct water emergency rescue drill
25/Oct/2021
In order to implement the laws and regulations of the "Regulations of the People's Republic of China on Inland River Traffic Safety Management", to better carry out the water pollution prevention and water emergency rescue work in Nanbu County, and to further improve the emergency rescue capabilities of water accidents, the Nanbu County Emergency Management Bureau and the Nanbu County Environmental Protection The Bureau, Nanbu County Urban Management and Law Enforcement Bureau, Nanbu County Local Maritime Affairs Office, Nanbu County Urban and Rural Water Affairs Company, and Nanbu County Red Cross Emergency Rescue Association jointly carried out water pollution prevention and water emergency rescue drill.

The drill site was simulated the collision of two ships in the Jialing River waters, which caused the sudden situation of pollution in the Jialing River waters. After the accident, various departments performed their duties, cooperated with each other, carried out hazardous waste treatment, information collection and a series of emergency rescue measures, and actively completed the emergency response. rescue and restore navigation in the waters.

Among them, rescue team members were organized at the drill site to pull up the

oil booms

to prevent oil pollution from spreading, put

oil absorbent pads

, collected oil pollution, and took samples from the Environmental Protection Agency on site to test the water quality and ensure the safety of drinking water in the county.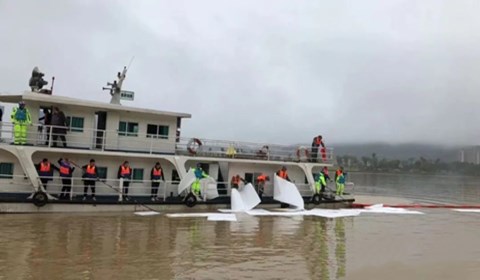 << Back